If you're just getting into sewing with stretchy knits, there are a couple of essential tools and some helpful supplies that you might want to have on hand.
The Essentials
So what are the essentials? The only real essentials are a sewing machine, thread, and the correct needles. Even a serger, while helpful, is not necessary for sewing knit fabrics.
Sewing Machine Needles
It's important to use the correct type of needle. The three common types that you will see recommended for knit fabrics are ballpoint, jersey, and stretch.
Ballpoint and jersey are interchangeable terms for the same needles - with a more rounded tip, designed to easily slip between the fibers of a loose sweater knit or interlock jersey, or other fabrics without spandex.
The stretch needle has a slightly less rounded tip, and works better for high stretch/high spandex fabrics such as bamboo/rayon/polyester jersey, swim knit, and athletic knit. A ballpoint needle will skip stitches in these types of fabrics.
Both types will work just fine for the in-between fabrics, such as structured knits with or without spandex.
Here is an infographic I created to help show the different purposes and the overlap: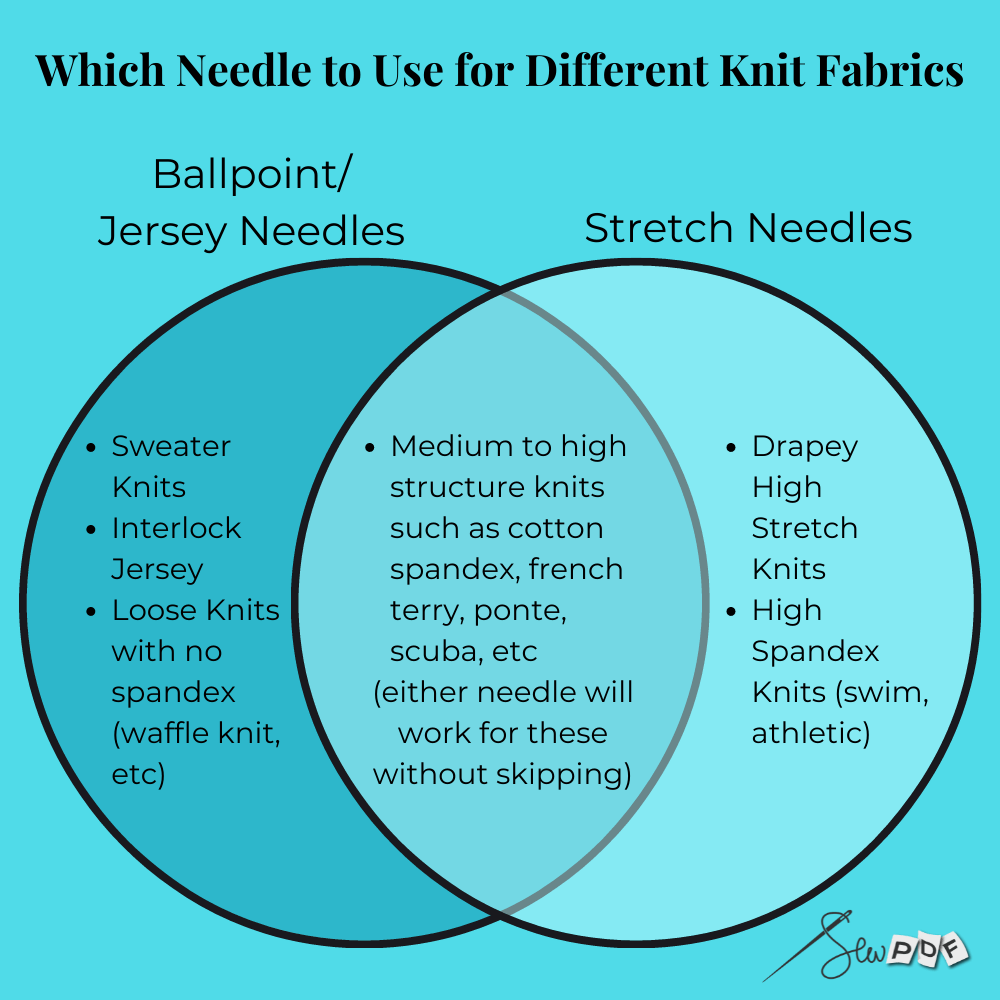 Other Helpful Supplies
Here is a quick overview of some other helpful supplies for certain scenarios when sewing stretchy fabric.
Walking Foot or Knit Foot
While not 100% essential, a walking foot or knit foot can be very helpful to prevent stretched out seams when sewing knits. The reason I say that it is not essential, is because most sewing machines have a dial to control the presser foot pressure, and turning that down will make a regular presser foot appropriate for sewing knits, in most cases.
Stretch Thread
I like to use Maxi Lock stretch thread (Amazon affiliate link - I may earn commissions for purchases made through this link) in the bobbin - it give a little extra stretch to your stitches and also makes them stronger and less likely to pop. Stretch thread comes in serger cones, as it's mainly intended for use in the loopers of a sergere. You can wind the thread from the cone onto a bobbin by hand, or using the bobbin winder on your machine.
Washaway Tape
This sticky double sided washaway tape (Amazon affiliate link - I may earn commissions for purchases made through this link) is extremely helpful for keeping slippery fabrics in place while sewing, and also preventing them from stretching, as the tape itself does not stretch.
Fusible Interfacing
Sometimes you'll need to stabilize certain areas of knit fabric permanently - like when applying snaps, grommets, zippers, buttonholes, etc. Fusible interfacing comes in varying weight and is ironed onto the wrong side of the area that needs to be stabilized.
Video Examples
Click below to watch a video showing samples of these supplies!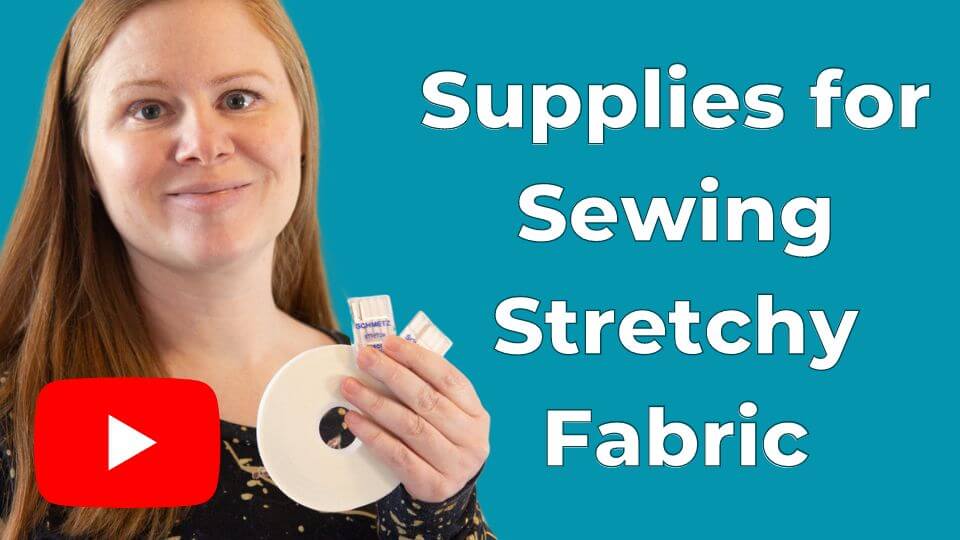 If you liked this video, please check out more like it on our YouTube channel! You can also subscribe and click the bell to get notifications when we post new video tutorials 🙂