How to Print PDF Sewing Patterns
If you are new to printing PDF patterns, the most important thing you will need to do is make sure to print the pattern accurately, so the size of your sewing project is correct.
There are a few key settings you will need to use/adjust to ensure it prints at the right scale and without errors. But the good news is, once you've got these mastered, printing patterns will be a breeze!
First, how will you know if your PDF sewing pattern printed correctly?
All patterns will have a square or rectangle somewhere on them, which you can measure to check if the scale is correct. The scale square is usually on the first page of the pattern, but check the tutorial just in case it may tell you a specific page number - make sure you only print that page first, as you don't want to waste paper while you sort out your settings!
Printing from Adobe Reader
The most reliable way to ensure you can print patterns accurately, is by by opening them and printing from the Adobe Reader software.
This is free software and comes standard on many computers, but if you do not have it installed yet, you can get it here (regular version, you do not need the free trial of the Pro version): https://get.adobe.com/reader/ IMPORTANT - Check at the bottom to make sure the site has detected the correct OS for your computer (i.e. Windows 10, Mac, etc) before downloading.
You can also print accurately from the app version of Adobe Reader (on a Chromebook or other computer that uses apps, or a mobile device) BUT it's important to note that LAYERS (the ability to turn off sizes you don't need to print) are NOT accessible in the app version.
All the following information about settings is based on printing from Adobe Reader. Printing from most other PDF readers or from the PDF opened in a browser screen will usually not result in accurate scale.
Setting 1: Actual Size / 100%
The main setting that needs to be selected when printing is ACTUAL SIZE or CUSTOM SCALE 100% - either one will work.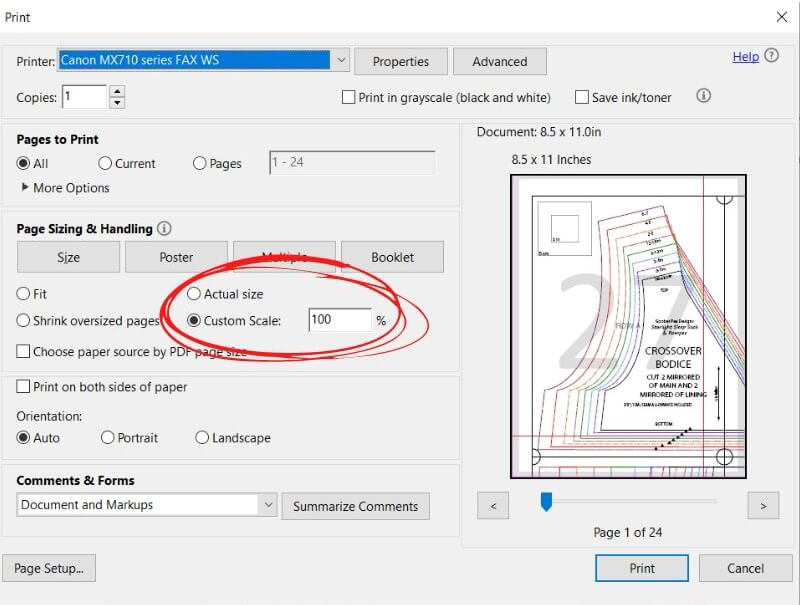 Setting 2: Orientation
The orientation should usually be set to AUTO PORTRAIT/LANDSCAPE. This will center the pdf image on the sheet of paper and automatically detect whether the image is landscape or portrait.
NOTE: Some pattern companies may recommend choosing portrait or landscape instead, to align the image to the top left corner. Make sure you read the tutorial to double check the recommended setting.
Setting 3: "Choose Paper Source by PDF Size"
This box needs to be UNCHECKED, as it will cause issues with certain types of PDF patterns (the kind that have blank margins around the edge that need to be trimmed off).
Here is a graphic recapping the basic settings required for all PDF patterns: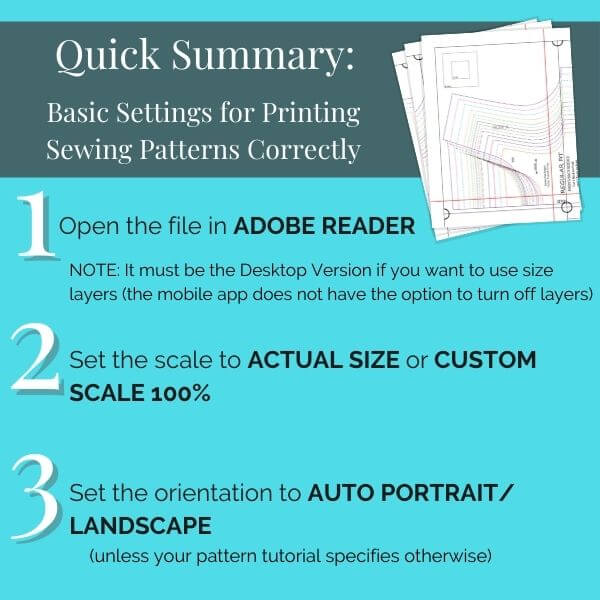 In most cases, the above settings should be all you need to print accurately, but make sure you measure your square to make sure it did in fact print accurately!
There are some other less common printing errors that I will cover in the next section:
Additional Settings & Troubleshooting
After years of testing patterns and helping people troubleshoot printing errors, they now pretty much all fall into into one of the following categories and can be fixed with these solutions:
1. Curved lines are coming out as angles
This is a very common error that seems to be isolated mainly to HP printers. It can also cause extra lines on some pages, or filled angled shapes - as shown in the images below.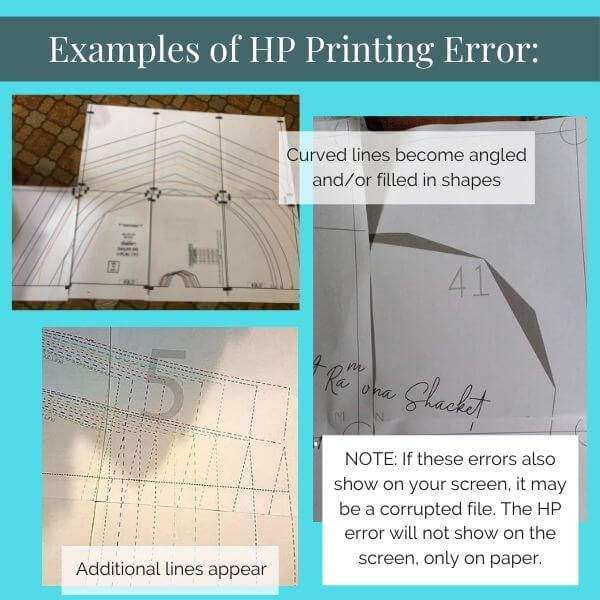 If this error occurs, the file will look correct on the screen, but the lines will print with strange angles. This is a communication error between the file and the printer. It can be solved by going into your printer-specific settings and selecting "print as image".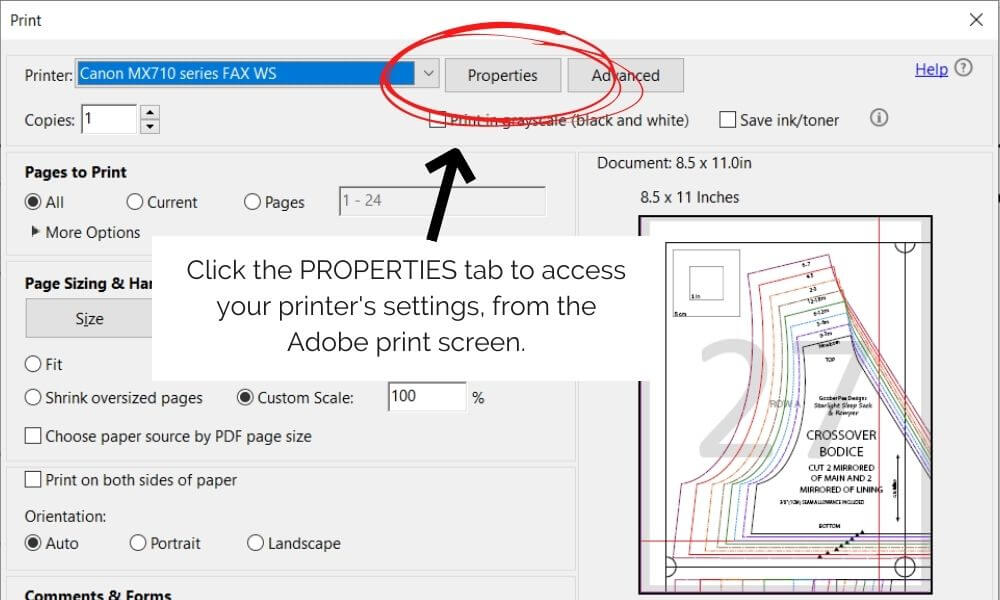 NOTE: If you can't find the PRINT AS IMAGE setting in your printer settings, there is also an option to select PRINT AS IMAGE from the ADVANCED tab in Adobe Reader, right next to Properties. However, this Adobe setting can only be used if you have Print in Grayscale turned OFF.
2. Some of the lines aren't printing at all
Every time this one has come up, it has been caused by the GRAYSCALE setting in Adobe Reader. This setting uses color ink to create shades of grey. So if your printer is out of color ink and you're trying to print in grayscale with black ink, it does not work. The solution is to go into your printer specific settings (click on PROPERTIES to access them) and select "grayscale" or "black and white" printing from there. This should enable you to print using only black ink.
3. The pieces are printing tiny
This will happen when someone accidentally prints the A0/Copy Shop file (meant to be printed on Blueprint sized paper) at home, on a setting that fits it to the page. If you are printing from home, you want the Letter or A4 pages (often combined with the tutorial). Letter is used in North America and A4 size is used in the rest of the world.
You can learn more about the different PDF file types in this post.
4. There are no labels or assembly guidelines
Most pattern will have a layer with all the labels and guidelines on it. Sometimes people will accidentally turn this layer off, when turning off all the sizes they don't need. To fix this, reprint with that layer checked.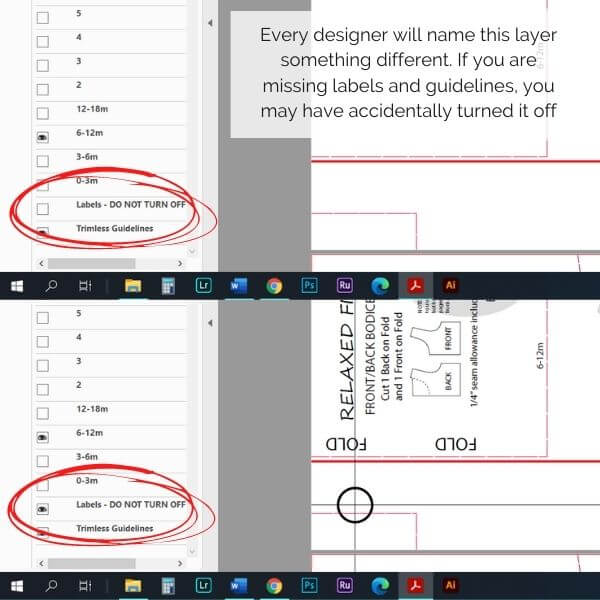 Another possibility for missing guidelines, would be accidentally printing the A0/Copy Shop file at the correct scale. In most cases you would end up with just one page (one small part of the pattern) if doing this, but there is a setting somewhere that would allow you to print the A0 as a series of pages - but it would have no assembly guidelines.
5. File Corruption
Sometimes random errors can be caused by a glitch in the internet during download, causing a corrupted file. I have seen this myself, with random things missing or in places they shouldn't be. If it's a file corruption, the error will show in the file on the screen (unlike the HP communication error, for example, where it will show correctly on the screen but not on the paper). This can be solved by re-downloading the file.
Is Your Error Not on This List?
If you've tried everything on this list and are still not able to print your PDF pattern correctly, try updating Adobe Reader in case you're using an older version with a glitch. If that doesn't help, send us a screenshot of your printer settings and a photo of your error, and we'll see if we can help!